Orgarswich Forge - Sam Briggs - Photo Session
Orgarswich Forge – Sam Briggs – Photo Session, An award winning extraordinary blacksmith and metal fabricator based in Dymchurch Kent. He has an imagination that converts customers vague ideas into stunning pieces of art, practical tools and garden gates, fences and very much more. Sam can be reached from this link http://www.orgarswick-forge.co.uk/
Orgarswich Forge - Photo Session
Sam has all the tools and equipment to create just about anything made from a steel bar or steel sheet. An exceptional person with a passion not commonly found these days. The images listed here are a small part of his creative talents along with some of the more traditional products. We have done several shooting sessions at the forge and these are a few images of his work.
We had an extremely small space to setup and shoot some of the smaller pieces of work he has created and it worked out fine and we achieved our goal we created the shots and our client was happy with the results.
This session is another good example of remote onsite working. Creating a lighting setup in a blacksmiths forge can be daunting as there not the best place to take camera equipment with dust and metal fragments all over the place.  Although Sam keeps the forge clean and tidy so there was very little to clean up on our return. We setup our strobes along with a tethered camera, created our lighting setup and fired away.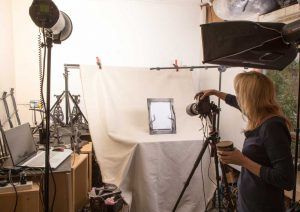 For more information about how we can help you create imges or improve the images you need then click the contact us link