We offer a complete range of website services including website design, copyrighting, photography, social media, hosting and SEO to create the best presentation of your business.
Social media has become a powerful medium to created more interest in your business and a good way to encourage visitors to your website using the power of social media like Facebook, Twitter, Google+ etc.
Web Hosting is the place where your site exists, the physical files live on the Internet 24/7 all day and all night, so if your selling to different times zones your site will be as fresh as when it was first installed.
There are a few important elements to creating an effective website design.  The first is the visual layout needs to be appealing to your customer, the second is the site needs to be appealing to you and finally the site needs to comply with website rules to gain the benefit of organic development.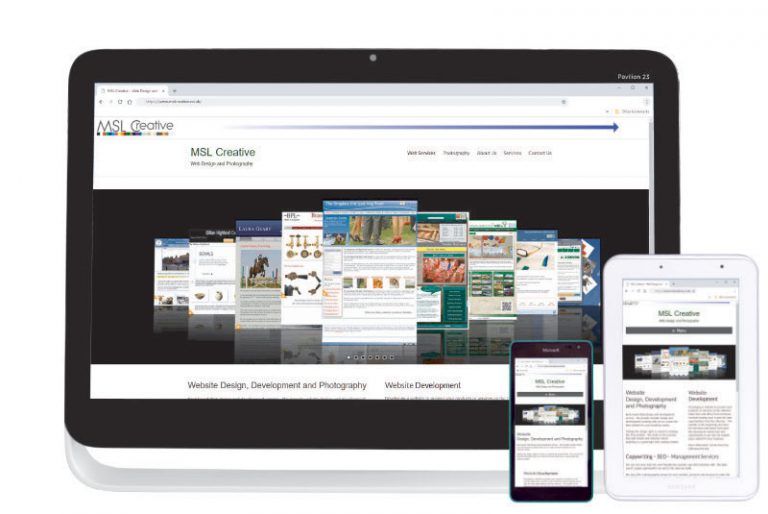 Copyrighting basically means the text on the webs pages needs to be, accurate, well written, easy to read and in short effective sentences generated from the information created by the business managers.  We have more information about the details of how to write effective text by following this link.
Without hosting there is no website, hosting is a fundamentally important to keeping your website online 24/7, it is the space where the web pages, photo and text are stored.  More about hosting and Invictanet who provide the server space.
The images on your website will capture the initial interest so its important to create effective photographs.  We always suggest you use actual photographs from your premises then when customers arrive to see your business there will be some continuity between what they have seen and the real place. While stock pictures an make your site look really impressive they tend to be general and not specific to your business.
Search Engine Optimisation is an important option, we consider it fundamental to making your website work.  Without an SEO compliant website visitors would have to be taken to the website by a means other than search engines organic listings.  More about SEO can be found by following the link
The general perception of social media is a fun place to talk to people who live anywhere in the world, Facebook is the classic example.  It doesn't occur to website owners that people using Facebook might also use for there products and services.  Advertising on Facebook can be really effective and can be regionally focused.  More about Social Media can be found by following this link.
There are many variations available from a basic 5 page website + hosting + domain name starts from under £500.
If you want a DIY WordPress package then hosting service £120.00 (invoiced by our hosting company Invictanet) + setup fee £50.00. This is a very basic package providing you with a hosting service including WordPress with a basic theme added.
How to Create a Working Website
Building and Develop websites that advertise your business to improve sales.
Talking to customers to get a feel for the business, look at the business marketing and sales information, branding, logos and any images available.
Create an example site to find the look and style the customer likes.
Create a holding page and setup or use existing hosting service to publish a basic holding page.
Begin site development and build web pages using the agreed style. Develop pages with customer before publishing live site. When site visual is completed add all the background information, contact forms, object titles and alt tags, meta descriptions.
When the site is ready to publish we carry out a thorough test of all page content and all interactive elements, including contact forms all communicate correctly.
Create Google, Bing and Yahoo scripts so visitors to the site can be monitored and the site adjusted if required so the correct visitors arrive at the site. Register the site with Google and Bing business pages so the business will be displayed on the map sites.
Create a sitemap, robots and basic htaccess script. We include a basic error capture script that ensures any previous website pages are not lost with 404 errors. We also check periodically via Google to see if any crawl errors have been found and make the 301 redirect corrections.